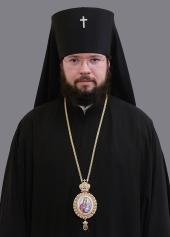 On May 31, 2019, His Holiness Patriarch Kirill of Moscow and All Russia celebrated the great consecration of the Cathedral of the Resurrection of Christ – the main church of the Resurrection Novodevichy Convent of St. Petersburg and led the Divine Liturgy in the newly consecrated Cathedral.
At the small entrance, by decree of His Holiness Patriarch Cyril, on the basis of the definition of the Holy Synod of May 30, 2019 ( Journal No. 49 ), Archbishop Antony of Korsun and Western Europe was elevated to the rank of Metropolitan – in connection with the appointment of the Patriarch of the Western European Exarchate.
Orthodox faithful of Pakistan congratulate His Eminence, Antony for his elevation to the rank of Metropolitan and for his appointment as the Patriarchal Exarch of Western Europe.
Eis pollá étē, Déspota!!!
Source: http://www.patriarchia.ru/db/text/5445578.html